Residence
Appartementen
Sport&Fiets centre
Relax
Voor de kinderen
Foto-gallerij
Waar vind u ons
Gardameer & excursies
Typische lokale producten
Prijslijst en Voorwaarden
Info & Boekingen
Nieuws, evenementen en last minute informatie
Gastenboek
Bevriende websites
---
Toevoegen als favoriet
---
Residence Villa Rosa
P.O.Box 56
Via della Pace, 7
I-37016 GARDA (Verona)
Gardameer - Italië

Tel 0039 045 72.55.341
Tel 0039 045 62.70.200
Fax 0039 045 62.70.084

---
www.residencevillarosa.com
info

residencevillarosa.com
---
privacy
Gastenboek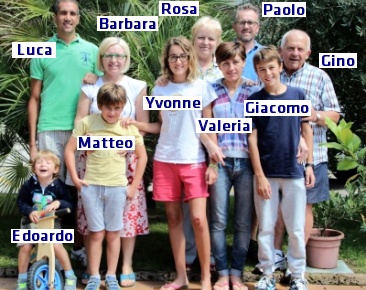 Gino, Rosa, Barbara, Paolo, Valeria en hun kinderen Yvonne en Giacomo, Edoardo en Matteo
zijn blij om u te verwelkomen in de Residence Villa Rosa in Garda.



We hebben beoordelingen ook in deze bladzijden:




---
TUTTI (1280) | 2005 (92) | 2006 (114) | 2007 (115) | 2008 (108) | 2009 (126) | 2010 (89) | 2011 (127) | 2012 (123) | 2013 (77) | 2014 (91) | 2015 (93) | 2016 (59) | 2017 (33) | 2018 (26) | 2019 (7) |
---
TUTTI (1280) | Deutsch (922) | Nederland (105) | English (86) | Italiano (65) | Français (14) | österreich (13) | Belgische (13) | Denmark (11) | Schweiz (10) | Finland (9) | Sweden (7) | österreichisches (6) | Iceland (5) | (4) | Luxembourg (4) | Espanol (2) | Usa (1) | Norway (1) | TEDESCO (1) | Oestereich (1) |
---
---

[11] Monday, 03 August 2015 07:37:42
Jan Hansen (jan.hansen65

hotmail.com)

Hi,

Back in Denmark after another lovely stay at Villa Rosa. Your place is really breathtaking and super. It was our 7.th or 8.th visit - and we will definately come back again.

Regards
Jan, Denmark
---

[10] Sunday, 05 July 2015 22:13:25
Peer Skovlund Hansen (Peerhansen

gmail.com)

We have been to Villa Rosa 4 times (soon to be 5). And it Can only be recommended. We have always been treated well, with kind, personally service and freindship from the family Betamé. We look forward to soon, once again, spending our vacation on lovely, beautiful and relaxing Residence Villa Rosa ☺️☀️
---

[9] Tuesday, 18 November 2014 17:14:24
Birthe and Jørn Nielsen (bjn

nypost.dk)

Thank you for a wonderful stay in your well furnished apartment. We felt very welcome from you. We would have been longer if there had not been closed down for the winter. We hope to come back another time.
---

[8] Monday, 28 July 2014 14:11:06
Fam. Hansen (fam.hansen

privat.dk)

Kære fam. Bertamé

Tak for en fantastisk ferie på Villa Rosa. Det har været 14 dage med oplevelser, afslapning og hygge med familie og venner – og det har rammerne hos Jer været helt perfekte til. Vi vender helt sikkert tilbage og håber det kan blive næste år.

Ha' en forsat skøn sommer!

Med venlig hilsen

Fam. Hansen
Danmark
---

[7] Wednesday, 05 October 2011 19:49:13
Ulla und Bent Skovlund Hansen

Liebe Familie Bertamé

Vielen Dank für eine sehr schöne Urlaub bei Euch (7. bis 19. september), wir hoffen das wir nächste Jahr wieder kommen.

Viele Grüsse und auf Wiedersehn

Ulla und Bent Skovlund Hansen
---

[6] Saturday, 25 July 2009 08:29:50
Jan Hansen (jan.hansen65

hotmail.com)

Tak for 14 dejlige dage i Villa Rosa.

Vejret var ideelt og vi hyggede os i den grad ved poolen og i selskab med etablissementet og familien Rosa, der er så gæstfrie og smilende, at man kun kan få en god ferie på Villa Rosa.

Absolut et sted vi kan anbefale til alle danskere. Nu er det 4. gang vi var afsted og det er helt sikkert ikke sidste!!

Jan
---

[5] Friday, 12 September 2008 17:43:24
Helle & Kurt Meinhardt (helleogkurt7913

webspeed.dk)

Kære familie Bertame,

Familien Meinhardt (Andreas, Carsten og Christel + Helle og Kurt Meinhardt) siger hjertelig tak for endnu en pragtfuld ferie i Residence Villa Rosa, Haus Paolo. Vores barnebarn var jo heldig at få en herlig tysk lejekammerat på 4 år. Vi anbefaler ofte venner og bekendte at holde deres sommerferie hos Jer.
De bedste hilsener fra Danmark fra "Ronja", Helle og Kurt Meinhardt

Und auf Deutsch:

Liebe Familie Bertame,
Familie Meinhardt aus Dänemark (der Andreas, der Carsten und die Christel + Helle og Kurt Meinhardt) sagen herzlichen Dank für nocheinmal ein prachtvolles Urlaub in Residence Villa Rosa, Haus Paolo. Unsere Enkelkind auf 4 Jahre war so glücklich ein Deutsche Junge als Freund zu finden, beide am Schwimmbad und auf Spielplatz. Wir empfehlen oft unsere Freunde und Bekannte ihren Urlaub an Sie zu verbringen.

Beste Grüssen aus Dänemark von "Ronja" Helle og Kurt Meinhardt
---

[4] Thursday, 20 September 2007 12:04:11
Helle & Kurt Meinhardt & Ronja (helleogkurt7913

webspeed.dk)

Sehr geehrte Rosa, Barbara, Valeria, Yvonne, Giacomo & Paolo, Leider haben wir nicht ordentlich verabschiedet,wenn wir am 25.08.2007 am Morgen früh abgereist waren. Deshalb sagen wir hiermit vielen Dank für noch eine sehr angenehm Sommerurlaub in Residence Villa Rosa. Bis nächste Jahr.

Die beste Grüssen von Dänemark. Helle & Kurt Meinhardt
---

[3] Thursday, 01 February 2007 20:57:22
Fam. simonsen, Denmark (josi

aab-net.dk)

We had allready decided another place in lago di garda, but your homepage maked us sure, that your place, was the right to spent our holidays in 2007.

Now we are looking forward to visit you in june - and we are sure, that we not will be displeased.
---

[2] Tuesday, 20 December 2005 14:15:31
Jan Hansen

Hi Paolo and the rest of your family, mom, dad and sister.

A merry X-mas and happy new year to all of you to. Hopefully you are enjoying the quiet season of the year and gathering strength to the 2006 season :-)

Me and my family are all doing well in little Denmark. The weather is as usual bad, windy and cold - I hate winter !!!
We will see us in 2007, we WILL BE THERE FOR 14 DAYS again.... it's a looooooooooong wait for us - but we will make it.

So until then - stay cool and happy and give my best regards to the rest of your lovely family.

Take care,
Jan Hansen, Denmark.
---

[1] Thursday, 14 July 2005 20:49:32
Jan Hansen (jan.hansen

ementor.dk)

Ciao a tutti :-)

Qui veniamo !!!! La famiglia Hansen dalla Danimarca - sabato il 16.th agosto.
If our stay will be as last year we are in for a SUPER holiday. Cant wait for a relaxing 14 days in the nice and joyfull residence of Villa Rosa.
Hope you have a cold beer ready after our long drive. Enjoying it by the pool in the sun will be like being in paradise.

Take care,
Familien Hansen